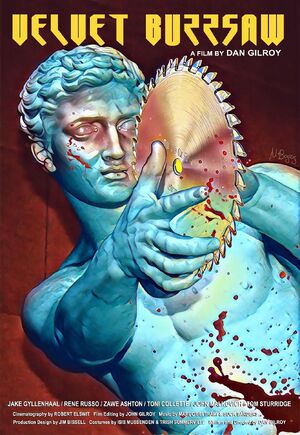 Velvet Buzzsaw is a 2019 American satirical horror film written and directed by Dan Gilroy and starring Jake Gyllenhaal, Zawe Ashton, Rene Russo, Toni Collette, Daveed Diggs, Nitya Vidyasagar, Tom Sturridge, Natalia Dyer, Billy Magnussen, Mig Macario, and John Malkovich.
Victims
Vetril Dease - Died of cardiac arrest off-screen, body seen.
Bryson - Pulled into a sentient monkey painting.
John Dondon - Strangled from the ceiling by Dease's ghost with his own tie while he was on a ladder.
Gretchen - Lower arm shredded by a sentient metal sphere sculpture, leaving her to bleed out.
Morf Vandewalt - Neck pulled and twisted by Hoboman, causing his neck to snap.
Josephina - Absorbed by a sentient painting.
Rhodora Haze - Shredded through the back of her neck by her sentient buzzsaw tattoo.
Deaths
Kill Counts
Hoboman - 1
Vetril Dease - 1 (Ghost)