Boba Fett Returns - The Loop
Play Sound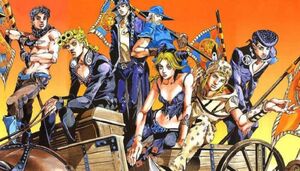 JoJo's Bizarre Adventure is a long-running series written and illustrated by Hirohiko Araki. Although the series started in 1987, it only recently received an anime adaption by David Productions. JoJo's Bizarre Adventure is one of the most best-selling manga of all time and is the second-largest ongoing manga series by volume count.
*Warning: This list contains deaths from parts without an anime adaptation.
Will Anthonio Zeppeli

's father - Disintegrated after being exposed to the sun due to him being a vampire.

Darnley

- Unknown cause of death.

Mary Stuart

- Beheaded after being framed for being the cause of Darnley's death.
Battle Tendency
Battle in Egypt
Diamond is Unbreakable
Between Diamond is Unbreakable and

Golden Wind
Between Golden Wind and

Stone Ocean
Car Accident Victim - Hit by Romeo and Jolyne's car.

Thunder McQueen

's victim - Accidentally shot by McQueen.

Lang Rangler

's victim - Stabbed sixty-nine times by Rangler.

Gloria Costello

- Killed by a person ordered by Sports Maxx.

Narciso Anasui

's girlfriend and her lover - Both killed by Anasui after being found cheating.

Perla Pucci

- Commits suicide after assuming Wes Bluemarine's death.
*Note: Made in Heaven's ability isn't to kill everyone. Anyone who survives the acceleration is reborn in the new universe.
Between Steel Ball Run and

Jojolion
Localization/Dub translation legend
Due to copyright issues in the west, many names in JoJo are altered, or localized. This is the legend of names that were changed in the English official releases (such as the dubbed anime).
Legend: (Localized name - Original Name)
Phantom Blood
Ripple - Hamon
Blueford - Bruford
Tarukus - Tarkus
Battle Tendency
Stardust Crusaders
Soul Sacrifice - Devo the Cursed
Centerfold - J. Geil
Enya the Hag - Enyaba
Dan of Steel - Steely Dan
Cool Ice - Vanilla Ice
Loser - Nukesaku
Diamond is Unbreakable
Worse Company - Bad Company
Deadly Queen - Killer Queen
Highway Go Go - Highway Star
Cheap Trap - Cheap Trick
Shining Diamond - Crazy Diamond
Golden Wind
Zipper Man - Sticky Fingers
Shadow Sabbath - Black Sabbath
Moody Jazz - Moody Blues
Li'l Bomber - Aerosmith
Tiny Feet - Little Feet
Mirror Man - Man in the Mirror
The Thankful Dead - The Grateful Dead
Fisher Man - Beach Boy
Babyhead - Baby Face
White Ice - White Album
Metallic - Metallica
Crush - Clash
Sanctuary - Oasis
Talking Mouth - Talking Head
Green Tea - Green Day
Emperor Crimson - King Crimson
Golden Wind - Gold Experience
Stone Ocean
Stone Ocean - Stone Free
Smack - Kiss
Weather Forecast - Weather Report
Narc Anastasia - Narciso Anasui
Diver Drive - Diver Down
Flaccid Pancake - Limp Bizkit
Sports Max - Sports Maxx
Maiden Heaven - Made in Heaven
Steel Ball Run
Frightening Monsters - Scary Monsters
Mando - Mandom
Tubular - Tubular Bells
Filthy Acts at a Reasonable Price - Dirty Deeds Done Dirt Cheap
Jojolion
King of Nothingness - King Nothing
I, Rock - I Am A Rock